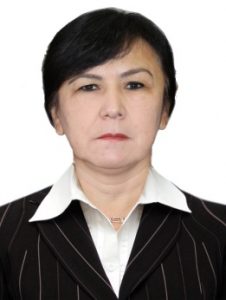 Yarmuhamedova Dilfuza Zairovna
senior lecturer, Ph.D.
Тел.: +998 71 150-95-13
E-mail: dilfuza-yarmuhamedova@rambler.ru
My profiles:Google scholar-https://scholar.google.ru/citations?hl=ru&user=Nx-HyHQAAAAJ
ORCID-https://orcid.org/0000-0002-2255-5950
---
Education:
1982-1988 –Tashkent Medical Institute (diploma with distinction), medicine
1988-1989 – Doctor-intern Second Tashkent state medical Institute (Certificate)
Employment:          
1989-1995 – teacher of themtdical school of the Tashkent Medical Institute
1995-2003 – assistant of the Department hospital therapy 2-Tashkent Medical Institute
2003-2016 – assistant of the Training cource on retraining and advanced training of GP of the of Tashkent Medical Academy
2015- present day – Head teacher of  "Internal diseases №1" of Tashkent Medical Academy
Scientific activities:
2010 defended PhD dissertation on "Approaches to treatment of patients with arterial hypertension in a polyclinic"
Main directions of scientific activities:
Investigation of risk factors depending on the nature of the main pathological processes of cardiovascular diseases and the development of preventive measures
The main scientific works over the last 5 years:
Articles:
Диагностика метаболического синдрома в условияхпервичного звена здравоохранения // Журнал "Интернаука"№9(13), С.70-73, Москва, Часть 1, 2017 г.
Оценка причин низкой приверженности пациентов сердечно-сосудистых заболеваний в амбулаторных условиях Журнал "Интернаука"№6(6), С.11-15 Москва, 2017 г.
Рооль диетотерапии при лечении больных с серсердечно-сосудистыми заболеваниями // Журнал "Интернаука"№6(5), С.22-27, Москва, 2017 г.
Влияние длительного применения антигипертензивных препаратов и проведения «школы гипертоника» на развитие риска сердечно-сосудистых осложнений у больных артериальной гипертонией. Журнал "Интернаука"№1(43), С.44-49, Москва,январь 2017 г.
Правильное питание – фактор профилактики заболеваний сердечно-сосудистой системы // 60-63 бет. Тошкент 2017.
"Имплементация компетенции и статуса Будущего врача общей практики" // ТТА укув услубий семинари материаллари 2018 й.
Оценка структурно-функциональных параметров левого желудочка у больных артериальной гипертонией с ожирением // Журнал "Проблемы науки" Москва №38, 2019, Стр. 66-69
Evaluate effectiveness teaching rehabilitation school patients myocardial infarction with pathologicai q wave based on echocardiographic parameters // Журнал "Интернаука"№12(94), 2019  С.30-32.
Применение инновационных методов в медицинском образовании. RE-HEALTH JOURNAL. Научный журнал. №3-1, г.Андижан, январь 2020 г. с. 602-605.
Manuals and guidelines:
Патент свидительство № 001009 "Внедрения интеграционных семинаров в образовательный процесс для студентов медицинских ВУЗов"